Audible Flux Headlines:
A series of earthquakes, one of them registering magnitude 5.9, shook central California on September 28, 2004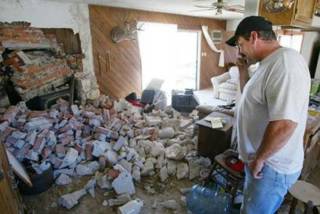 What a mess!
That's your bad Karma from killin that deer dude
! (note the deer head mounted on the wall)
Man! I always miss these things--well not always, but I missed this one. Most everybody else felt it in the Fresno area, but I was outside (and in Madera). It's a little harder to feel them when your not in a building (the small quakes anyway).
I am disappointed to miss this latest quake because they are really a cool experience (as long as nobody gets hurt that is).
Unlike other natural disasters, earthquakes come without warning. One moment your watching cartoons, or talking shit about a co-worker with somebody, or sitting on the can reading Maxim. Then, without any warning, the floor under you is rolling and stuff is rattling around you and your stomach gets a big knot because all your life (as a Californian) you have been told that the "Big One" will come someday and, for a few seconds, you think this might be it. The "Big One" will come and crumble life as you know it leaving Fresno with a coastline and LA underwater.
That would be so sweet....The Fresno coastline part that is. LA, San Diego, San Fran, Pismo Beach, they have all had the coastline for way too long! It's time for us people inland to get some of that Ocean air-you selfish Coastline bitches!